AVN Nomination: Favorite Domme
I was nominated for Favorite Domme for AVN 2020. I have been on their website for some time, and wondered whether or not the self-propelled pre-nomination process would truly do anything. But, here I am, a nominee, and I am nominated and placed right next to the OG Nina Hartley. I think that I'm more excited for that than anything else.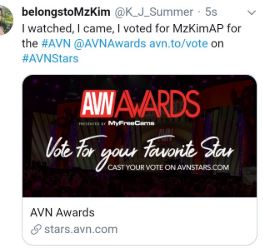 So, I'll be attending the AVN awards and AEE Adult Entertainment Expo as a nominee this year. Voting closes on Jan 25th and I fully expect to lose. The point, though, is that I will be there to work, to teach, to play, and hopefully meet some excellent people. And walking the red carpet will only add to the fun.
---
Comments are closed.