Hello San Francisco
Hello Folsom Street Fair
Hello Degenerates
There are few cities I love playing in more than San Francisco. There are zero street fairs as kinky as this. So this is your chance to experience a unique kind of humored degeneracy, exquisite sensuality, and a confidence in my understanding and endless curiosity of human sexuality and fetishes. I have 1 more opening solo and 1 more opening with my glorious play partner (below) Sept 24-27.  And when I say it's limited availability… I mean it. I am almost fully booked.  So, do hurry. Apply at MzKim.com.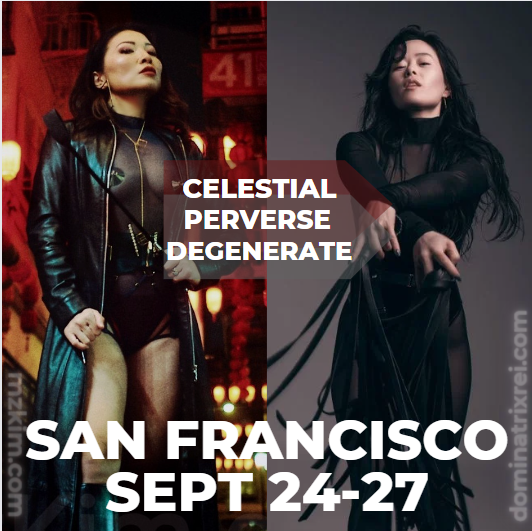 Can you imagine being part of a public scene in which your audience is filled with kinksters, dommes, gawkers, leather boys? Can you imagine being whisked away into a private luxury dungeon in the heart of San Francisco? Can you imagine having me guide you into a moment in your life that is so sublime and intense that it will be etched into your memory forever? 
For those of you who can only observe from afar, read about my Kink content folder, my sexy times about to happen with Rei, Andrea, and contributions HERE: http://followmzkim.com. 
You must apply through my application on my website here.
Read More
---