How Art & Smut Get Made
This is how art & smut gets made. I consider some of what I do artistic in nature, and this is definitely one of those instances. This took 4 people and quite a few man hours. Not to mention the planning, the location, the wardrobe. All so I could satisfy mine (and many others') fetish cravings…
When I collaborate, I choose carefully. My time is valuable, and I respect the time of other artists, too. That's why I appreciate it when like-minds come together. The two other women you see here are Andrea Rosu and Stella Sol. They are not just pros in this industry, but creatives as well. They constantly inspire me, and I ask their opinions often.
The pet you see in this photo, he's special, too. He belongs to Stella. And it was a pleasure to play and pose with someone so keen to please. My heart fluttered a little when we both put on our masks, I wore the black bunny one, he the dog mask, and we had a tender moment. I bent down to adjust his mask, and caressed his face. I don't know how it felt for him in that moment, but I remember it to be quite special.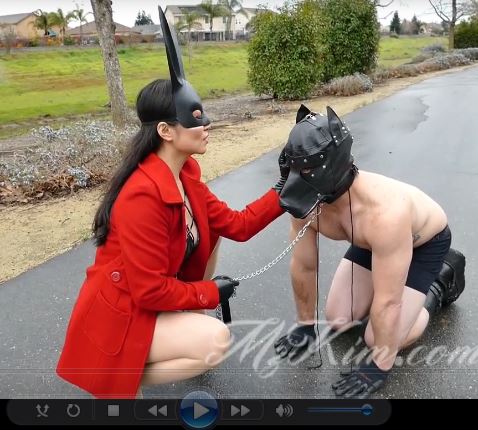 I think a lot about what collaboration does for me. In money terms, the video content that I publish involving others (that is, myself and 1 or even 2 other women are in the same scene) do not do that well. My best selling content is always solo work. However, I continue to push for special collaborations because every time I work with other women, whether they are versed in the same niche categories as I am, I learn something new and valuable. I am inspired to make something different. And it's always valuable.
The workshops that I am teaching incorporates this idea of collaboration. I would venture to say that all SW is pretty isolating. If it's the kind of work that involves seeing clients, then there is another person involved. There can be some intense feelings of loneliness and isolation sometimes. Many SWs also don't ask other people in the industry sincere, thoughtful questions. 
I learn the most when I ask people about their experiences and how they have come to the successes they have made. People also don't like to talk about money, or they don't speak truthfully about it. I find that to be a real detriment to people in this work. I am all about financial literacy and transparency and cutting through the mud to get to the nugget of things.
So, art and smut get made like this. We learn from each other, we develop our skills and transform ourselves into fetish bunnies walking our pets at the local park…
You're welcome!
To see this video "How Art Gets Made", please click here to join my Onlyfans. It's how I primarily communicate with those who value my work. It's an inexpensive subscription fee and it's a great way to see lots of my content!
---
Comments are closed.