Your Vote Means Something!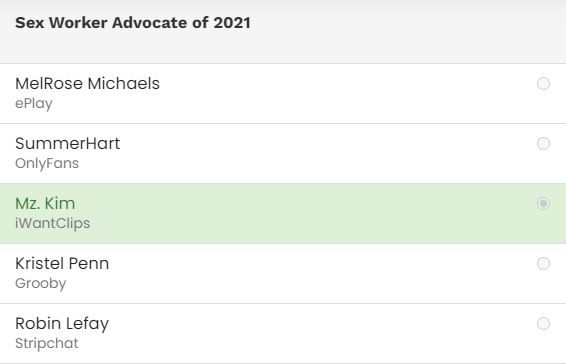 If you've taken classes from me, or even if you haven't, perhaps you get the feeling that I advocate for sex workers by doing the hard work and taking action.  This action comes from wanting to educate and make working as a SW easier.  This action comes from donating money to sex worker-focused spaces; donating my online classes to those in need; giving my time online and in person in the form of education and problem-solving conversations; writing articles and posts about the struggles, stigma and triumphs of being a SW.
So, how pleased was I to be recognized by YNOT awards as a nominee for Sex Worker Advocate! I'm proud of the work I've put into advocacy. 

I would so appreciate it if you voted for me. Your vote means something! It means that you think my work matters. It means that you think SWs are human beings, who do real work; that we care about others; that SW education and advocacy are necessary. I teach and give my time and advocate for sex workers because I believe in this work. It has given me the freedom and expression and independence in ways that very few jobs can.

Sign up at this link and vote every day to help me win! (You have to sign up before voting)
ynotid.com
awards.ynotcam.com/vote
---
Comments are closed.