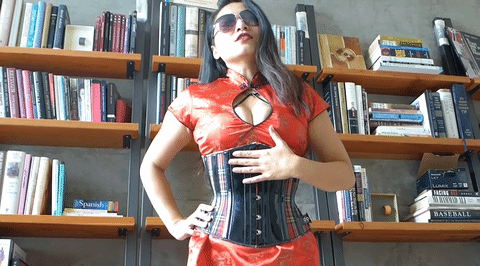 Name: Mz. Kim Lee, Asian Provocateur
Title: Goddess, Mistress (Mz.), or Queen.
Age…less
Hair Color: Black
Eye Color: Dark, deep pools. They shine in your servitude.
Height: 5'7″
Location: USA
Measurements: 34C/D Ask before you buy, sometimes, they change. I am the Asian Provocateur, and I love Agent Provocateur (size 3 panties). Bordelle in the UK, in medium, is also one of my favorites, for the kink enthusiast with taste.
Dress Size: S/M or US 4-6
Shoe Size: US 7-7.5, EU 37 or 37.5, 38, exact measurement is 9.5″ insole, so you do the work and figure it out. Beautiful high arches.
Marital Status: Unavailable & out of your league
Children: None
Pets: you, maybe, if you're a good boy.
Specialty: Femdom, Findom, making you spill your secrets
Fetishes: Way too many to count and describe here. I like making boys cry and beg and give and give and give, Foot fetish, nylon fetish/stockings fetish, shoe fetish, trampling latex/rubber fetish,
leather, lingerie, hair fetish, gloves fetish, giantess
Languages: English, Chinese
What I want in a submissive: Obedience. Adoration. Service.
Turn Offs: whining, misogyny, cheapness, entitlement, arrogance.
Turn Ons: tributes, good taste in shoes, lingerie, latex & leather gifted to Me
Tattoos: None
Piercing: None
Hobbies: Making you weak, making you beg, draining your bank accounts
Do you take custom video orders? Yes. I love creating custom videos. I appreciate imagination and thoughtfulness in custom orders. You may email me. Want to email me with a great idea, but just don't have the funds? Then don't email me. Save up. Purchase a custom video, that is THE way I will make your video. [email protected]. Read MORE HERE. To order your own custom video complete this form.
IMPORTANT INFORMATION
I document My fetish imagination, Goddess Worship, My slave training, Fetish and POV scenes through my video clip store. I do Skype and phone sessions through my Niteflirt profile. I can be reached through texting. There is always more information on my blog.
We all know excited sub boys can't always figure out directions very well. One foot in front of the other! Begin by sending tribute, then contact Me through email or one of the many secret ways I have published all over my website.
Featuring: Female Domination, Femdom POV, Asian Femdom POV, Asian Nylon Femdom, Asian JOI, Asian cuckold, Financial Domination, Asian Domination, Feminization, Pantyhose, Stockings, Foced-Bi, Forced Gay, Intox Play, Roleplay, Shopping, Public Humiliation, Tease & Denial,Premature O training, Shoe & Boot worship, Body worship, Sensual Domination, Human ashtray, Smoking Fetish.